Accelerated Impact Energy Sources
accelerated weight drop products at their best!
The Accelerated Weight Drop System is the cornerstone of United Service Alliance's commitment to giving the customer what they want and need. Designed with the field crew in mind, all models are easy to use, easy to maneuver and easy to service.

We have recently successfully completed the design, manufacture, and testing of a new family of AWD's, which produce higher energy output in a smaller, safer, and more robust package!
Features
Patented Nitrogen Spring Technology (Patent 7284636, other US and International patents pending)
Unparalleled Power — Highest cocking forces in the industry!
Systems for Every Application
Mechanically Reliable — Significant Reduction in Down Time
State-of-the-Art Design and Manufacturing — Science teamed with expert Craftsmanship
Versatile — Mounts on Trucks, Trailers, Buggies or Rubber Track Crawlers
United Service Alliance manufactures a proprietary line of accelerated weight drop energy sources for oil and gas exploration for use in any environment or those that are prohibitive using conventional sources, bridging the gap between dynamite and Vibroseis™ in an environmentally sensitive nature.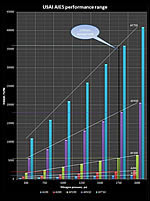 Comments on Weight-drop performance…
Over the years, several manufacturers, including us, have struggled in attempts to quantify accelerated-weight drop performance; in particular, total energy output. Many attempts have been made to quantify output, with mixed results (and units) with very few that are repeatable, predictable, and comparable. Peak force is an instantaneous expression given over a very short period of time, achieved 'normally' through the use of accelerometers mounted on the hammer and/or baseplate. While this approach can be accurate, and provides data for true output, it does so in that state, condition, and shot –point –only-. After the first impact, soil dynamics have changed (spring rate), and the imparted compaction changes the flight distance and time. From a mechanical system stand-point, hammer release mechanism conditions, wear on flights and guides, friction, hammer and striker deformation, and fluctuations in accelerating media pressures all affect the final output of the system; none of which are easy to quantify and predict…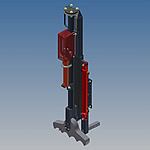 A100 P&S Accelerated Impact Energy Source

Energy output range: 291-1149 ft-lbs (395-1558 joules)
Holddown required: 676-3144 lbs (307-1426 kg)
The smallest commercially available auto-fire unit USAI offers, the A100 hammer is most often used as a receiver hitch-mounted unit, powered by a stand-alone self-contained HPU. However, with the advancements in small utility vehicles, the A100 is a perfect match for a number of carriers! When mounted on a UTV, end users experience great gains in production and accessibility while lowering environmental impact and operating costs over larger units.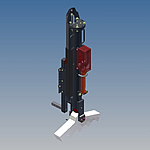 A200 P&S Accelerated Impact Energy Source

Energy output range: 679-2324 ft-lbs (921-3151 joules)
Holddown required: 1540-6158 lbs (698-2793 kg)
The bigger brother to the A100, the A200 AIES provides more than double the potential energy output of the A100, but requires more available holddown to realize it's full potential. Like the A100, the A200 is normally powered by a 10-hp stand-alone diesel HPU with user's choice of manual or electronic hammer controls.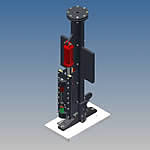 AF200 Accelerated Impact Energy Source

Energy output range: 1716-6501 ft-lbs (2327-8814 joules)
Holddown required: 4582-18329 lbs (2078-8314 kg)
The smallest new-generation auto-fire hammer, the AF200 puts out significant energy in a compact, robust package. The unit is best suited for purpose-built platforms; towed trailers, on-highway vehicles, or off-highway crawlers. The AF200 is powered by the same 10-hp diesel engine as the A100 and A200, providing outstanding output per available horsepower!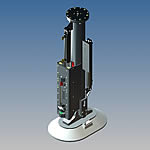 AF450 Accelerated Impact Energy Source

Energy output range: 5613-20560 ft-lbs (7610-27875 joules)
Holddown required: 7189-28757 lbs (3261-13044 joules)
The AF450 is the most popular AIES offered by USAI. When paired with an IHI IC50 rubber-tracker crawler, the AF450 source produces 5.16 PSF, providing an environmentally sensitive, highly-maneuverable platform. Custom integration on a variety of carriers is available, from ADT's, feller-bunchers, skid-steers, on-highway vehicles, and exiting seismic source products.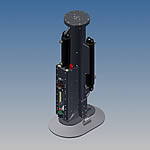 AF750 Accelerated Impact Energy Source

Energy output range: 10996-40891 ft-lbs (14909-55440 joules)
Holddown required: 14378-57513 lbs (6522-26087 kg)
The heavy-weight in USAI's AIES line, the AF750 produces energy on par with weight-drop units using twice the hammer mass! Designed for deep objectives, the AF750 requires a larger carrier to take advantage of it's potential.