Custom Products
providing whatever the customer needs, even when the customer doesn't know exactly what that is!
United Service Alliance develops products from inception through service literature using state-of-the-art 3D parametric software; creating 2D documentation packages, burn, and machine programs directly from the models, insuring quality and fit throughout. BOM's are generated and driven by the models, then linked to our manufacturing software, for discrete control over inventory.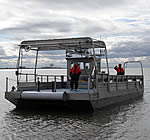 Reliance Work Boats
Modular aluminum sections, sized to fit in sea container.
Normal assembly consists of five sections, but can be configured in any number of combinations.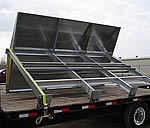 Nitrogen Bottle Rack Awning
All steel, galvanized construction.
For use in chemical plants and treatment facilities.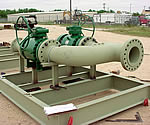 Pipeline Skids
Ethanol prover skid.
Variety of sizes and configurations produced.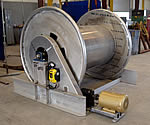 Marine Streamer Reel
Several sizes and configurations available, ranging from 200m to 3000m.
As shown, 3-hp, 3-phase, bi-directional, variable speed drive motor.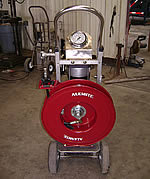 High-pressure Cart
Glycol high pressure cart for refineries.
Used for purging debris in analyzer pipe.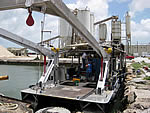 Air Gun Deployment & Retrieval Davit
Allows safe handling of gun strings from on-deck to in water.
Provides controlled air-gun deployment depth and offset.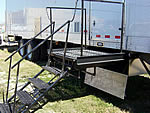 Battery Charging Trailer
Self-contained generator for charging and systems power.
Fold-up stairway for entry/egress to HVAC-equipped office space.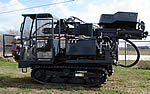 Shot-hole Drill Units
Rotary-head, hydraulic powered units.
Sonic drill units.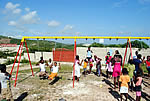 Swing Set Kits
Many 'first-time' installations around the world in desolate or impoverished areas.
Used in conjunction with mission work involving water well drilling and infrastructure